Product Name:
Automotive refinish Clear Coat Varnish

Model No.:
ES810/ES820/ES830 MS Clear Coat
ES950/ES980/ES999 HS Clear Coat

Solid Content: ES999>ES980>ES950>ES830>ES820>ES810

Features:
Suitable for 1K Silver, pearl or solid color tinters. Excellent covering power,metallic effect,easy spraying.Extra fast drying and high quality finish. Good covering power and leveling. Complete color coverage range with outstanding color accuracy.
For metallic colors, it is high solid and high coverage. Varied color cover full range with high color saturation.
Application Substrates:
Sanded and dried existing finishes,1K or 2K primer , 1K base coat(1K Solid color/1K Pearl color/1K Metallic)

Mixing ratio:
Clear Coat :Hardener:Thinner=2:1:(0.2-0.3)
According to the MJ coat brand mixing ratio instruction.

Spray tips:
| | | |
| --- | --- | --- |
| Spray Gun | Nozzle dia. | Pressure (Mpa) |
| Gravity feed | 1.2 mm | 2.0~3.0 |
| Suction feed | 1.5mm | 2.0~3.0 |
Pot Life & Flash Time:
Pot life: 24 Hours at 20°C
Flash Time: 10'
Spray coats:
2-3 coats (Flash off time 3-5 min between coats,20ºC)

Application Procedure:
Painting Steps

Application Explanation

Remark

1.Substrate Polish

Clean off stain with 320#




sand paper or with




polishing machine

Substrate should be smooth,




flat and free of grease, dust etc.

3. Polish

Polished with 320# sand paper or with polishing machine

Polish the coarse surface for 3-4 hrs.

4. White primer

Base: Hardener: Thinner = 1:0.3:(0.8-1)

Apply 2-3 times and then polish after each coat dries.

5. Polish

Polish with 400-600# sand paper

Polish for 3-4hrs till the surface has no bright point.

6. Top coat

Matt paint : Hardener: Thinner = 1:0.5:1




Glossy paint: Hardener: Thinner=1:1:(0.8-1)

Apply 2-3 times and no need polish or stop between each coat.
Car refinish flow chart: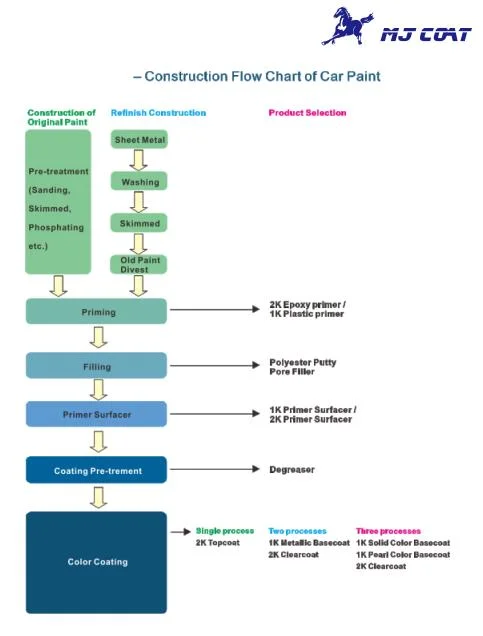 Storage:
Sealed stored in dry conditions within the temperature range 15ºCto 20ºC and relative humidity range 55% to 75%.


Shelf life:
2 years in original sealer can in cool and dry place at 20ºC.