Application:

Self-leveling Epoxy Flooring can be used in a number of applications including Commercial, Industrial, and Residential applications. We recommend our metallic epoxy flooring for a wide variety of industries and buildings including in:

--Breakrooms
--Locker Rooms
--Rest Rooms
--restaurants
--nightclubs
--workshops
--Restaurants
--cafeterias
--office buildings
--reception area
--hotel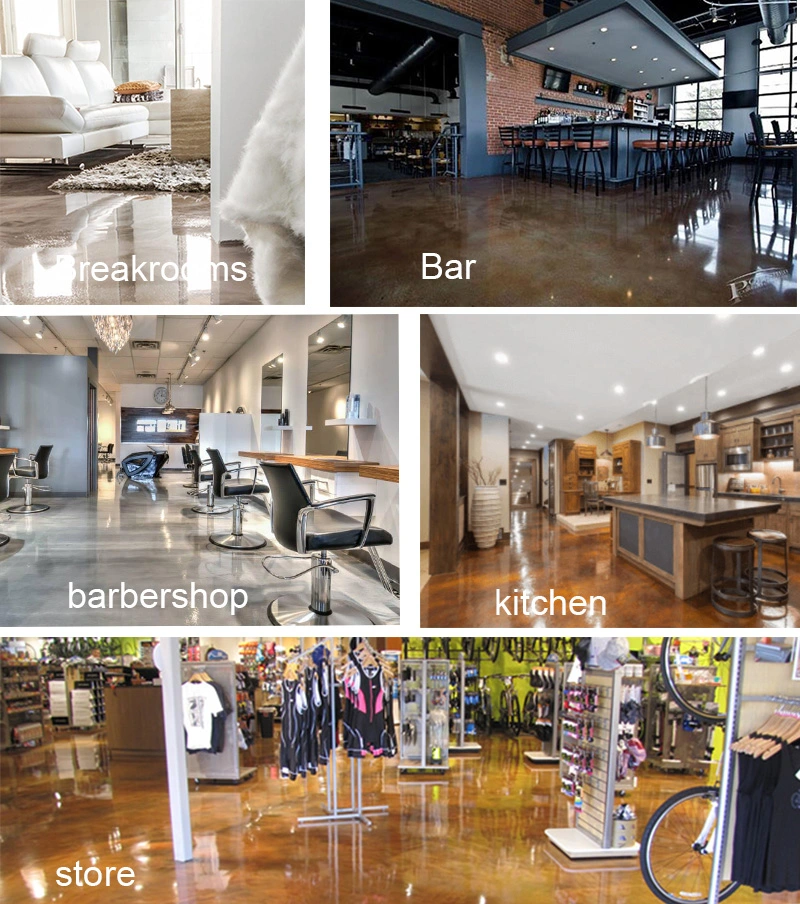 Description:

This two-component product is mainly prepared by epoxy resin,curing agent,fillers.

Our metallic epoxy surface coating kit has been specially formulated by our chemists allowing you to create stunning decorative surfaces. The beauty of metallic is that it offers infinite opportunities to create a unique colour combination that would blend seamlessly into your existing home or commercial setting. Our 2 colour options allow you to mix and combine any colour combination to create beautiful marble effects with each finish being truly unique. The smooth high gloss finish exudes style and is also extremely easy to clean and maintain.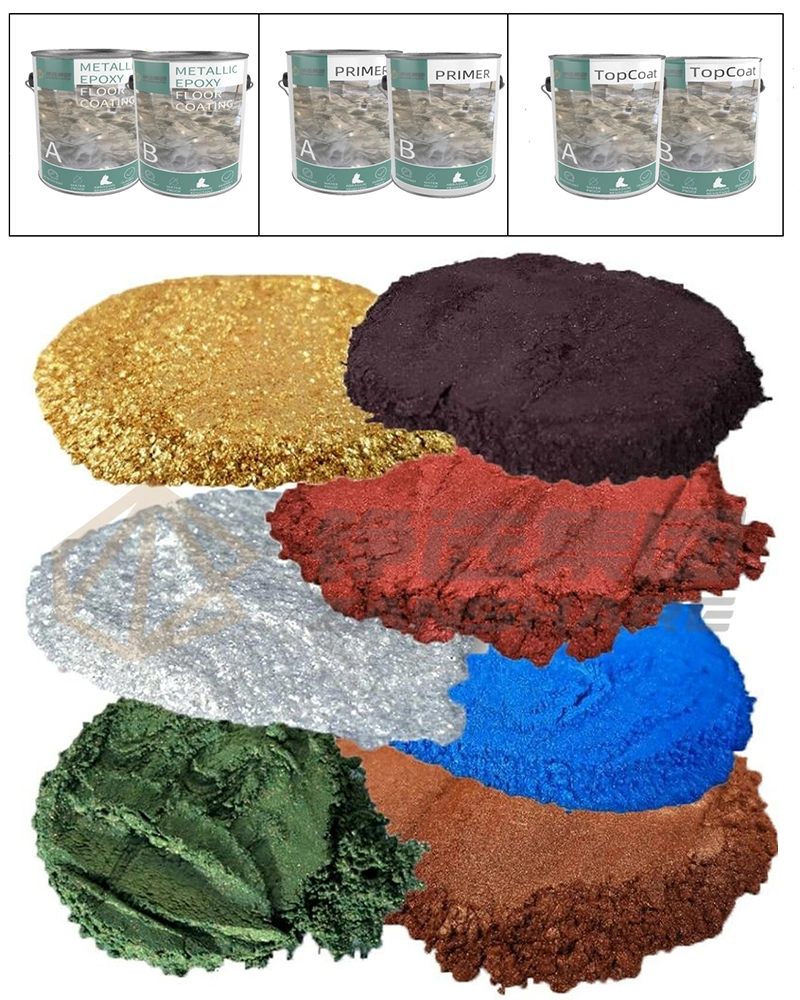 Kit Contains:
Resincoat Metallic Base Coat(Primer)

Resincoat Metallic Epoxy Paint (Base + Pigment)

Resincoat UV Resistant Top Coat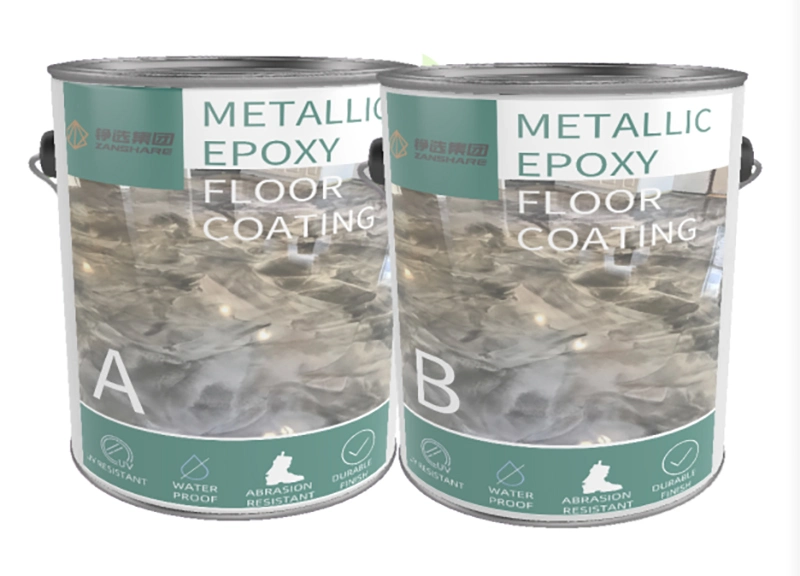 Advantage:
Drying at room temperature, high hardness of the condensate, good leveling and anti-floating color performance, thick coating can maintain high gloss, can effectively eliminate the construction roller printing, good adhesion, epoxy floor coating has good wear resistance, impact resistance.
Benefits Of Metallic Epoxy Paint:
---No contractors required - carry out the work yourself
---UV stable - no discolouring or fading
--Quick & easy installation - long pot life
--Totally unique design & finish
--Great choice of colour options - high gloss finish

| FEATURES | BENEFITS |
| --- | --- |
| Durable | Superior chemical and abrasion resistance over pre-engineered floors |
| Decorative | Custom colors and textures available to compliment any decor |
| Economical | Cost-effective alternative to pre-engineered floors |
| Safe | Orange peel texture that increases slip-resistance and safety |
| Clean | Wax-free and economical to clean with soap and water |
| Monolithic | Seamless flow of wall-to-wall beauty that does not collect dirt, moisture or germs |
| Low Sound | Seamless and flexible surface that deadens the noise of foot traffic and carts |
| Renewable | After years of use, efficiently revitalize your resinous flooring system by sanding the surface and applying a new topcoat |


Project Image: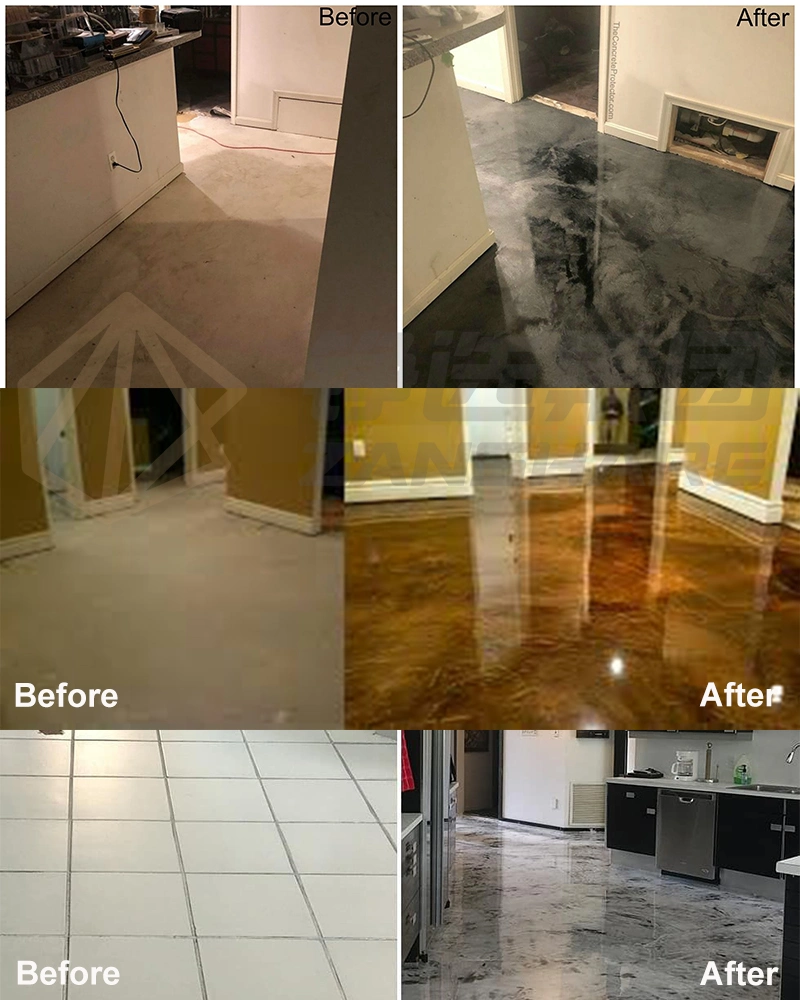 Technical Parameters
| | |
| --- | --- |
| State in container | No hard lumps after mixing. |
| Density, g/ml | 1.03 |
| Surface drying time, ≤ | 40min |
| Complete drying time, ≤ | 2-4h |
| Hardness, ≥ | 2H |
| Adhesion, ≤ | Level 0 |
| Slip Resistance (Dry friction coefficient), ≥ | 0.5 |
| Water resistance | 172 |
| Wear resistance(750g/500r)/g, ≤ | 0.060 |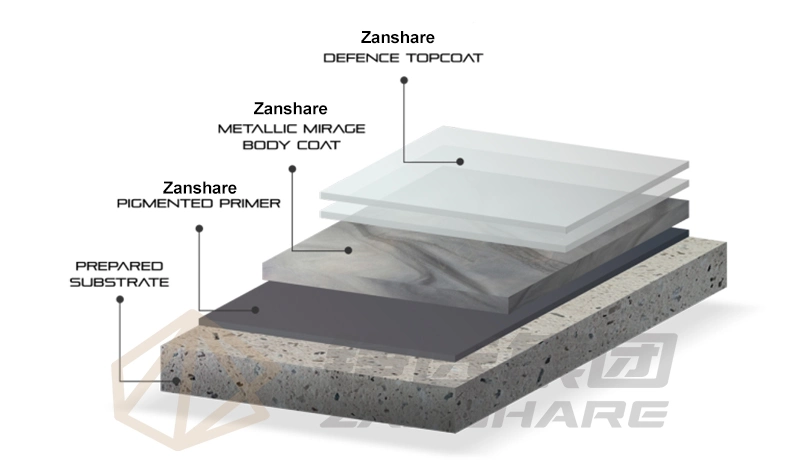 | | |
| --- | --- |
| Primer Required | Yes (Supplied in kit) |
| Appearance | Marble-effect, metalic finish |
| Product Name | Metallic Epoxy Resin Floor Coating Kit |
| Thickness | 600-800 microns per thick single coat |
| Substrates | Concrete, wood, cement based floors and more |
| Drying Time | 8-12 hours per coat |
| Technical Data | UV Stable |
| V.O.C | VOC Free |
| Applications | Entrance ways, showrooms, hotel lobbies, home use, function rooms & event flooring |

Color: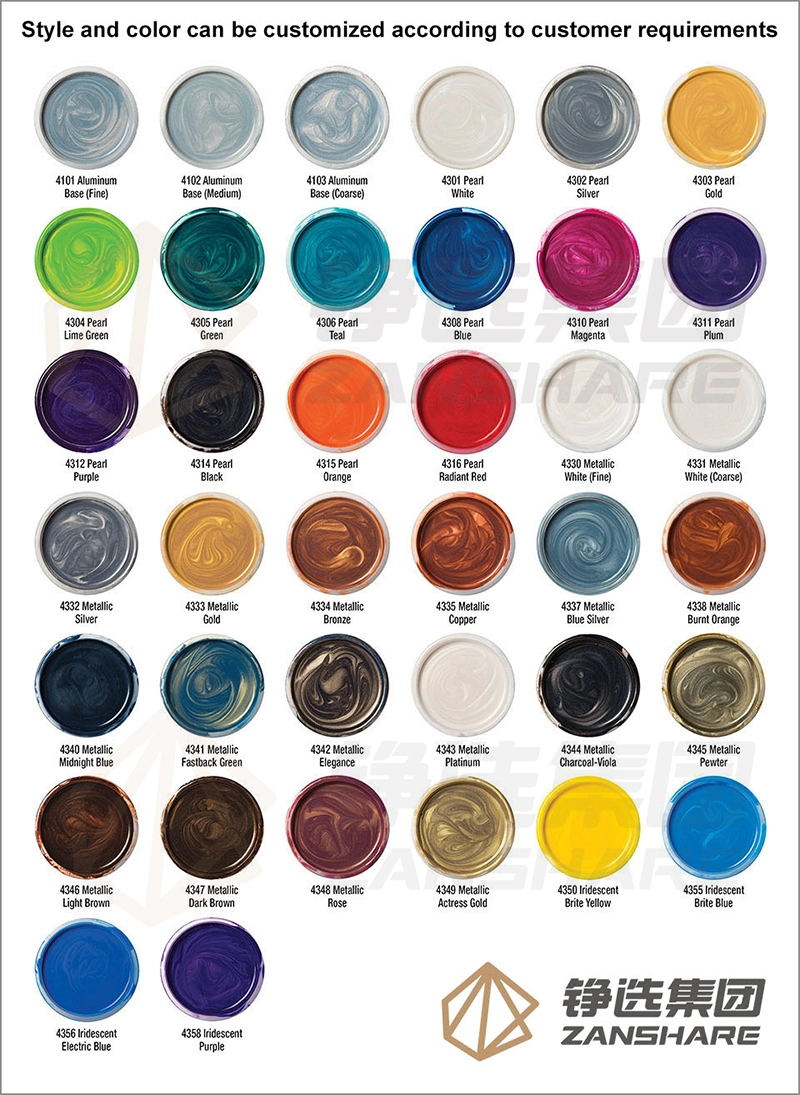 Construction reference:
We advise when applying this product the ambient temperature is at least 7 degrees ensuring there will be no precipitation in the area for a 12 hour period following application
Metallic Epoxy Flooring Installation Process
Our Metallic Epoxy Floor creates a multi-color look that brightens and creates a clean look to any space. This system consists of the following.

Step 1: Diamond grind your concrete to achieve a proper surface profile for maximum adhesion of the epoxy.
Step 2: (If present) Fix any cracks or pitting that may exist using our polymer modified concrete or epoxy patch.
Step 3: Apply a basecoat of a 100% solids commercial grade epoxy primer.
Step 4: Apply the Metallic Epoxy Floor Coating.
Step 5: We apply a final topcoat of either water-based or solvent-based urethane.
Typical Install time: 3-4 days



FQA
Q: Can I be your agent?
A: Sure, we are looking for agent all over the world.
Q: Sample is free?
A: Yes, we provide free samples, you only need to pay the freight.
Q: What's the payment?
A: We prefer T/T 30% deposit in advance, 70% balance T/T before the shipment!
Q: What is the min. order quantity?
A: MOQ is 300 kg/ color.
Q: What is the delivery time?
A: Within 10 days since received the deposit.